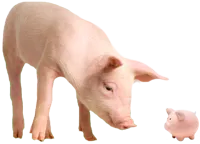 1. Payment is expected when services are rendered. In order to focus on our patients' needs, customer service and minimizing costs, we do not bill.

2. We accept debit cards, credit cards (Visa, Mastercard, Discover, American Express), CareCredit, ScratchPay, check, and cash. All cards must be signed by the owner of the card.

*Any payment returned by their bank for any reason will be charged the maximum service fee allowed by law.
**Returned checks that are not paid in full within 24 hours of return will be turned over to the Illinois States Attorney for prosecution and the writer of the check will be responsible for all expenses incurred to collect.
We also offer Wellness Care Plan Packages which are packages of services paid over 12 months and have additional benefits attached. Click on the WELLNESS PLANS button above to read more about them and for prices.
Insurance For Your Pets

Another popular option for your family and pet is insurance coverage. To learn more, please visit the following pet insurance websites . . .